Weird Nevada - By Joe Parzanese
Hand of Faith Gold Nugget

The Golden Nugget
129 Fremont Street, Las Vegas, Nevada 89101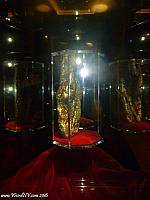 The Golden Nugget hotel and casino has been located on Fremont Street since 1946. Since 1981, it has been home to one of the largest golden nuggets in existence, the Hand of Faith nugget.
The Hand of Faith nugget was found by Kevin Hillier using a simple metal detector near Kingower, Victoria in Australia on September 26th, 1980. It was located about six inches below the surface. Hillier sold it to the casino for about a million dollars where it has remained ever since.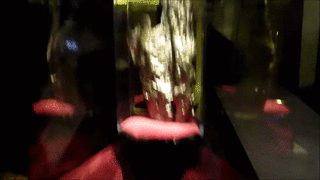 Weighing 875 troy ounces (or about 61 pounds, 11 ounces) the Hand of Faith nugget is the largest nugget ever found using a metal detector. Some claims also list it as the largest nugget currently in existence due to the fact that larger nuggets found have eventually been broken down into gold bars instead of being kept intact as a single nugget. Its dimensions are 47cm by 20cm by 9cm.
The nugget rotates around continually in a cabinent not too far from the main entrance. Enter the hotel by the main entrance on Fremont Street, turn right, then make a left down the hall some. There you will find the display case containing the gigantic nugget.
Located right next to the Hand of Faith nugget, the Golden Nugget also has a gold selling ATM (or vending machine) where one can purchase four different sizes of gold bars (one gram, five gram, ten gram, and one ounce) and even an American 1oz Silver Eagle coin. Called "Gold to Go", prices on the ATM are updated every minute with current gold and silver prices. The ATM was installed in the hotel on January 5, 2011 and only takes cash. There are two additional Gold to Go ATMs in the United States, one in Atlantic City at the Golden Nugget there and one in New York City. Las Vegas also plays host to a Bitcoin ATM at The D, just down Fremont Street from the Golden Nugget, as well as a Cupcake ATM at Sprinkles in the Linq mall.
Lastly, the Golden Nugget has The Shark Tank! Containing several different types of sharks, this 200,000 gallon shark aquarium is located right next to the hotel's pool, allowing you to swim and observe sharks at the same time. Additionally a three story hotel dubbed the Shark Chute goes right through the aquarium, allowing people to slide right past these dangerous sharks!
Closest Weird
First Created: 2016-01-25
Last Edited: 2016-01-25