Weird Nevada - By Joe Parzanese
Vegas Vic and Vegas Vickie

Vegas Vic
25 East Fremont Street, Las Vegas, Nevada 89101


Vegas Vickie
8 Fremont Street Exerience, Las Vegas, Nevada 89101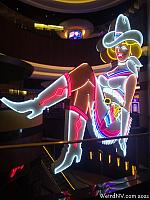 On April 10th, 1942 the casino called the Pioneer Club opened up at 25 East Fremont Street in Downtown Las Vegas. In 1947, the Las Vegas Chamber of Commerce hired a firm which invented a famous cowboy greeting visitors to Las Vegas with a "Howdy Partner". The Young Electric Sign Company built the neon sign modeled off of this cowboy design. Pat Denner created the sign off of the original 1947 image. In 1951, Vegas Vic was put up over the Pioneer Club in Downtown Las Vegas. He was forty feet tall, and wore blue jeans with a yellow-checkered shirt and red bandanna.
The neon sign had a waving arm, a moving cigarette and even a recording of "Howdy Partner" that Vic spoke over Fremont Street every fifteen minutes.
Sadly in 1992, the Pioneer Club was purchased by new owners, who soon after in 1995, closed the historic casino. In 1998 Schiff Enterprises bought the Pioneer Club and opened a souvenir store inside it. It has been a souvenir shop ever since.
Vic doesn't work as well as he did back in 1951. In 1966 Lee Marvin stayed nearby and complained about the Vic being too loud so the casino turned off Vic's "Howdy Partner". It sadly stayed off until the eighties, but stopped working sometime in 2006. The arm sadly hasn't waved at visitors since 1991. A few feet were chopped off of his hat in 1994 in order to accommodate the new canopy for the Fremont Street Experience.
His shirt hasn't always been the color it is. Originally white with yellow checkered stripes, it has also been solid yellow and red with a yellow checkered pattern.
Regardless, of his condition, Vegas Vic has merrily greeted visitors to Downtown Las Vegas for over seventy years! But our neon giant apparently needed a companion . . .
Back in 1980, Vegas Vickie, a giant neon cowgirl, was put up on Fremont Street. She was opposite the street from Vegas Vic, and for years, sat up above the Girls of Glitter Gulch strip club. She would kick out her leg with a motor and she wore a fringed cowgirl outfit. Her design was created by Jack Dubois and Charles F Barnard. She was originally imagined by casino owner Bob Stupak. She clocks in at twenty five feet tall and also twenty five feet wide!
In 1994, when the Fremont Street Experience was created, Vegas Vickie and Vegas Vic were even officially "married" to celebrate the opening of the giant screen that covered the area! Occasionally, people get her name wrong, incorrectly calling her Sassy Sally, due to her proximity to the neighboring casino, Sassy Sally's.
Well, Glitter Gulch and the Mermaids Casino, plus other establishments such as La Bayou and the Las Vegas Club, on that portion of the street were finally torn down back in 2017. In their place a new glamorous casino named Circa was erected, whose blue lit up exterior walls can be seen for miles.
The brand new casino thankfully took care of Vegas Vickie and gave her a refresh, fixing up some of her dents and years of wear and tear, returning her to the property at the end of 2020, this time just off the lobby of Circa, outside a nearby cocktail lounge named in her honor. There are multiple viewing angles from which you can see her, and her leg is merrily kicking again.
Vegas Vickie, known as the neon cowgirl whose mechanical boot kicked playfully over crowds for more than three decades, has become synonymous with Downtown Las Vegas, one of the most historic neighborhoods in the country. As the area grew from its rough and tumble gamblin' hall days of the early 1900s, Fremont Street's ever-increasing colorful and bright signs moved locals and visitors alike to dub the corridor "Glitter Gulch," a badge that still conjures up images of Las Vegas' neon and dazzling lights.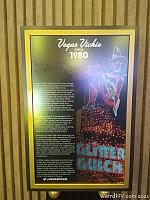 If you're curious about the goose that can be seen in some of Vegas Vickie's pictures near the Glitter Gulch, that's the Golden Goose from the Golden Goose Casino. The casino was open back in the seventies, first opening in April 1974, and had this cowboy hat wearing, golden egg hoarding goose as its mascot. The location eventually became part of Glitter Gulch Casino and then later the Glitter Gulch Gentlemen's Club. When the building was destroyed to make way for Circa, the Golden Goose was moved, restored, and set up in November 2019 on a corner down the street on Fremont Street where it intersects South 10th Street. The goose sits near the corner on a purple box with "Golden Goose" written on it. The goose turns on in the evening, both lighting up and spinning around.
Soon after Vegas Vic was built, Pat Denner had Wendover Will created by the Young Electric Sign Company in 1952! He was sixty three feet tall and has 1,184 feet of neon tubing. Originally, he stood at the Stateline Casino, but when the casino changed ownership, Wendover Will was donated to the city of Wendover. He was eventually moved to Wendover Boulevard in 2005.
Margaret Elardi, then owner of the Pioneer Club in Las Vegas, acquired the Pioneer Club in Laughlin in 1981. At the time she commissioned a new version of Vegas Vic, called River Rick, from Young Electric Sign Company, the same sign company that had made Vic thirty years earlier. River Rick is sometimes referred to as Laughlin Lou. There is a bit of incorrect information that floats around about River Rick. The casino that owned him, at one point, claimed that he was the original Vegas Vic! That when the giant canopy went up for the Fremont Street Experience in 1994, Vegas Vic was too tall and thus sent to Laughlin instead, being erected over the Pioneer Club there and getting a rename to River Rick. The story claims a slightly smaller Vegas Vic was built to replace the original. There is absolutely no evidence to support this story, however. Vegas Vic did have his cowboy hat slightly altered in order to fit under the Fremont Street Experience. River Rick was built 13 years before the Fremont Street Experience.
Sadly though, I'm not even sure if River Rick is still even standing in Laughlin. I heard he was not being maintained a few years ago, but I am unsure of his status
.
Outside References:
First Created: 2021-11-23
Last Edited: 2021-11-23