Weird California - By Joe Parzanese
Swedish Coffee Pot

Smith Street and Lewis Street, Kingsburg, California 93631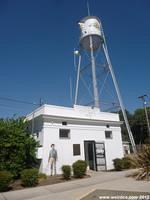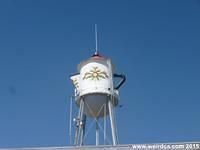 Santa Barbara County has Solvang, the Danish town. Fresno County has Kingsburg, the Swedish town. In 1921, ninety-four percent of the population of Kingsburg was Swedish American, and the area was nicknamed Little Sweden. Today, the Swedish culture is still celebrated within Kingsburg's Historical Park consisting of several historical structures designed in a Swedish architecture. Multiple buildings throughout town ranging from hotels to the Fire Station are also done up to resemble Swedish style structures. The town still has a Swedish Festival every third weekend in May with parades, a pancake breakfast, and a Swedish Festival Queen.
The most notable attraction in Kingsburg is the Giant Swedish Coffee Pot that serves as the town's water tower. The water tower was erected in 1911, and modified to its current giant coffee pot motif in 1985. It is 122 feet tall and holds 60,000 gallons. It is lit up at night. The idea to redo the water tower as a coffee pot came from Stanton, Iowa, which has their own water tower done up in a similar style.
Other giant coffee pots in America can be found at:
Louisville, Kentucky
Stanton, Iowa
Island Falls, Maine
Winston-Salem, North Carolina
Bedford, Pennsylvania
Lexington, Virginia
Tacoma, Washington
Zillah, Washington
and Chester, West Virginia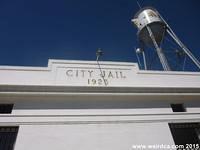 Kingsburg also has a historical jail located right near the giant coffee pot water tower. Originally built in 1925 in order to replace the former run down jail that had been built back in 1874, the small concrete structure operated as a jail until the 1970s. In the 1970s, the building became a police evidence storage facility and also housed the first 911 phone system in Kingsburg. In the 1990s the building was abandoned, and it was not until 2008 that it was turned into the historical museum that it is today.
Today, the jail has been completely redone and is now outfitted with dummies showing off scenes of what life was like in the jail. Besides furniture, there are mannequins of former prisoners and a former officer residing in the jail. One cell has two inmates playing guards, another has the prisoner sitting with a guitar. Also humorous art work on the back wall of the jail add to the enjoyment of a visit. The piece of art shows prisoners escaping out a window on the side of the jail. A drawing of the former sheriff is to the left of the front door. The jail is open 365 days of the year. It sits right next to the Swedish Coffee Pot and behind the fire station.
Also, Kingsburg is home to the World's Largest Box of Raisins.
Closest Weird
Outside References:
First Created: 2015-07-26
Last Edited: 2015-07-26