Weird Nevada - By Joe Parzanese
World's Largest Chevron

Goodsprings Road, Jean, Nevada 89019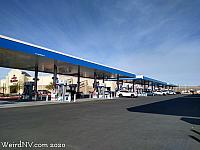 Racing along Interstate 15? Need gas? Forgot to fill up at the waterfall urinal back in Cima? Well since July 6th, 2018, Jean has had the answer for you, as that's the day Terrible's Road House opened!
Most likely it was too crowded at Cima anyway. And who wants to wait in a long line to get gas. Well, that's no problem in Jean at Terrible's Road House, also known as the World's Largest Chevron! Although not the world's largest gas station, it still boasts a very impressive 96 different gas pumps! Yes, just four shy of 100! And it needs them, as Interstate 15 to Las Vegas sees approximately 55,000 travelers a day!
And that's not all! The convenience store associated with Terrible's Road House is 50,000 square feet! And that includes a 700 square foot beer cave! There are 72 soda heads in the fountain beverage area. And then there's the bathrooms, as the women's restroom has 25 floor to ceiling bathroom stalls, while the men's has 13 stalls and 25 urinals! There's even a map of the bathroom area drawn on the entrance area to the bathrooms. The men's restroom even has inspirational messages written all over, such as: "Every great journey begins with a trip to the bathroom", "Wash your hands! You know where they've been" and "All shooters with short barrels or low muzzle velocity please move closer to targets".
At least two Texas gas stations have 120 and 122 gas pumps, vastly outnumbering Terribles. At least one Texas gas station has a larger convenience store area by an additional 17,000 square feet. But the World's Largest Chevron also has several planes hanging from the ceiling, a massive thirteen foot tall Bigfoot statue, a Candy Village, motorcycles suspended in mid air, and even a car from a James Bond movie! One of the planes even points the way to the restrooms, with "Restrooms" written in yellow all over it, along with arrows pointing, and a roll of toilet paper being strewn from the cockpit, held on to by the pilot. The second plane is in the entrance area, while the third plane has "Modelo" written on it and flies near the Beer Cave.
The store has several little boutiques devoted to other brands ranging from Red Bull, Monster Energy Drink, and the beef jerky, Jack Links Wildside. Of course, there's also an area with slot machines and video poker. There's also a pretty nice fenced in dog walk area on the other side of the gas pumps. With 96 gas pumps, plenty of bathroom stalls, and a giant convenience store, Terrible's Road House is your one stop shopping spot for anything you could possibly need on the road!
Closest Weird
First Created: 2021-07-31
Last Edited: 2021-07-31