Weird California - By Joe Parzanese
Richard's Lunchbox (formerly Aerodogs)

240 North L Street, Tulare, California 93274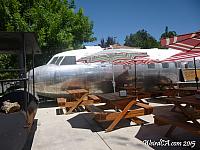 What do you do with an old 1951 Convair T-29 Air Force navigation training plane? Why turn it into a hot dog place, of course! At least that's what the folks of Aerodogs did in Tulare. Opened in 2006, Aerodogs was originally a hot dog eatery offering up a variety of styles of hot dogs. With a slogan of "Home of the Famous Flying Wiener", it had a colorful logo of a dog in aviation goggles with his tongue hanging out being and being blown back by the wind. It was sold in 2012, however, and became Tom's Smokin Barbecue. I'm guessing it changed hands again sometime in 2013 because now it is Richard's Lunchbox, and coincidentally doesn't sell hot dogs (or french fries) at all!
Richard's Lunchbox has both outdoor and indoor seating. Outdoor seating is at picnic tables around one of the wings. Indoor seating is actually inside the plane's fuselage on mock cargo crates. There is a counter at the back of the plane for ordering and most of the cooking is done back there as well. The plane only has one wing as the wing on the other side of the plane has been removed. However, there are fake clouds on the fence outside the windows on that side to "simulate" being in the air. A small hangar sits next to the plane and is used for larger parties and events. The cockpit is viewable from inside the plane and even has a dummy pilot sitting in one of the seats.
The Convair T-29 "Flying Classroom" was the first plane designed to train navigators in groups. Up to fourteen students formerly were able to train within the plane. Max speed of this type of plane was 295 mph with flying ceiling of 23,500 feet. Its wingspan originally was 91 feet, 9 inches and her original length was 74 feet, 8 inches.
Overall, visiting and eating at Richard's Lunchbox is an enjoyable experience and I would highly recommend it to anyone in the area. Colorado Springs also has a restaurant in an airplane, having taken a 1953 Boeing KC-97 Tanker and turning it into "The Airplane Restaurant". Richard's Lunchbox is located in Tulare off Highway 99. Tulare is about eight miles south of Visalia. Tulare was named after Tulare Lake, which was once the largest freshwater lake west of the Great Lakes. The town is one of the leading dairy producers in California and the water tower, as a result, has been made to look like a glass of milk. Additionally the town has the only remaining Adohr Milkmaid and Cow statues in the United States.
Closest Weird
First Created: 2015-10-02
Last Edited: 2015-10-02