Weird California - By Joe Parzanese
Bert Barrett's Left Arm

Hacienda Cemetery
21440 Bertram Road, San Jose, California 95120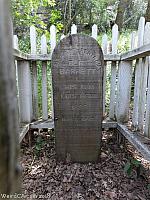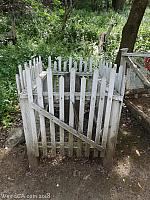 If you listen to my daughter, every night, when the moon is high, an arm claws its way out of a grave and haunts a very old, spooky graveyard in Santa Clara County.
Now, except for probably some local urban legends told by the kids in the neighborhood around the Hacienda Cemetery, it's probably unlikely that a zombie arm crawls around the earthen graves of New Almaden. Southern San Jose contains the historic community of New Almaden, which was once a mining town working the quicksilver mines located nearby. Hacienda Cemetery hosts many of their deceased, roughly about fifty graves, including perhaps its most famous interment: the left arm of Bert Barrett. Just his left arm, nothing else of him. The rest of him is located at Oak Hill Memorial Park elsewhere in San Jose.
Many of the graves are surrounded by white fencing, with simple grave markers behind the fences. Richard Bertram "Bert" Barrett's reads thus:
In 1898, New Almaden native, Richard Bertram "Bert" Barrett, the son of a quicksilver miner, at the age of 13 went out hunting and sadly suffered from a horrid hunting accident when a shotgun blew off half his left arm. For some reason in 1898, laws at the time required that any severed body part had to be buried. And thus the gravesite at Hacienda Cemetery.
The rest of Bert lasted another 61 years and can be found 11 miles away from Hacienda Cemetery at Oak Hill Memorial Park, where Bert is interred with his wife, Irma. It looks like they were both cremated and can be found in the Oak Hills Mausoleum. As a side note, Oak Hill Memorial Park is the oldest secular cemetery operating in California, having been in operation since 1847.
Additionally, the road that cuts straight through Hacienda Cemetery, where his arm is buried, is actually named after Bert Barrett. Despite missing most of his left arm, Bert went on to become the Chief of Sanitation for the Santa Clara County Health Department. He died at the age of 74 in 1959.
So there you go. Richard Bertram "Bert" Barrett's arm, at the age of 13, was buried in Hacienda Cemetery in New Almaden, the southern part of the cemetery that is going uphill. While, the rest of Barrett's body, cremated, was laid to rest 61 years later and 11 miles away at Oak Hill Memorial Park.
And just in case you think my daughter has a wild imagination, well, she isn't the only one. Local legend spins a yard of Bert's left arm coming alive on Halloween every year, crawling from its grave in Hacienda Cemetery, and seeking out the rest of his body. So, maybe my daughter was right when she told me about a zombie arm haunting the cemetery?
HACIENDA CEMETERY
California Registered Point of Historical Interest Number SCL-052
Dating back to early 1850's, this cemetery was in use until 1920's, when musician Ben Black, who wrote the then popular song, "Moonlight and Roses". bought some of the mining company land at the hacienda and subdivided it.
Bertram Road was cut through the length of the tract and through the cemetery over the tops of an unknown number of graves. After being tax-deeded to historian Gene Vennum, he turned the Hacienda Cemetery over to the California Pioneers of Santa Clara County in 1974.
Dedicated October 10, 1981
Native Sons of the Golden West, San Jose Parlor No. 22; California Pioneers of Santa Clara Co.; and Mountain Charlie Chapter No. 1850, E Clampus Vitus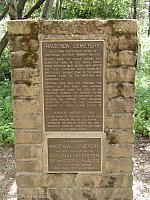 Closest Weird
Outside References:
First Created: 2020-05-06
Last Edited: 2020-05-06