Weird Nevada - By Joe Parzanese
Two Giant Slot Machines

Fry's Electronic Store
6845 South Las Vegas Boulevard, Las Vegas, Nevada 89119


Slotzilla
Fremont Street, Las Vegas, Nevada 89101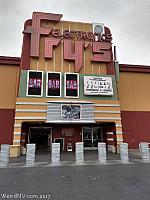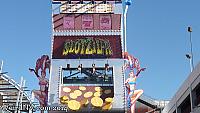 The one armed bandit. Las Vegas is estimated to have 200,000 slot machines in it. They range in cost, size, type, game, etc. It's not surprising in a city where the slot machine is so important to the city, that there would be two gigantic ones within the city! One is Slotzilla, which people can literally zipline from, and the other is Fry's Electronics whose building looks like a gigantic slot machine.
Along Fremont Street, under the Fremont Street Experience is SlotZilla! Slotzilla is known as the World's Largest Slot Machine, standing 128 feet tall. It has two zip lines that depart from it, allowing people to zip on down through the Fremont Street Experience at either 77 feet off the ground or 114 feet off the ground!
Near the southern part of Las Vegas as you come on into the city on Interstate 15, off to the east of the highway is the city's Fry's Electronics. Many Fry's Electronics are themed, ranging from a fifties alien themed one in Burbank, California to a train themed one in Roseville, California. Well, not surprisingly the Las Vegas one is Strip themed after the Las Vegas Strip. This theme can immediately be seen outside as the front entrance is a giantic slot machine, and the pylons in front of the entrance are made to look like stacked poker chips. The giant slot machine is constantly having its reels roll showing different slot machine combinations.
First Created: 2020-08-11
Last Edited: 2020-08-11