Weird California - By Joe Parzanese
Gumby and Pokey

4175 California Street, Norco, California 92860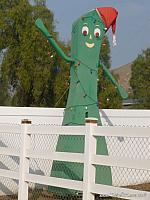 Located in Norco at a private residence are two large statues of Gumby and Pokey. Yes the green guy and talking orange pony from the old stop motion clay animation TV series. The statues were created by Dave Williams, the owner of the home in which they stand in front of. Gumby was built in 2002; Pokey sometime after that. The statues are fashioned of metal and Gumby stands 12 and a half feet tall! The statues are decorated with Christmas lights for the holiday.
Gumby and Pokey, the characters, were created in the early 1950s by Art Clokey. Gumby's first appearance was in a three minute film that was made in 1953 called Gumbasia, a parody of Disney's Fantasia. In 1955 and 1956, 22 eleven minute episodes aired on NBC. Gumby's hayday though was the sixties. As many more episodes were created and aired up through 1968. Gumby and Pokey are probably the most famous stop motion animation ever made. Clay was taken, put into place and a picture taken. The clay was then moved a small amount and another picture was taken. The illusion of movement is thus created when the series of pictures are strung together and played as a continuous sequence.
Gumby stands to the left of the house, while Pokey is to the right near the driveway. The house is for sale currently. I have no idea what fate will happen to Gumby and Pokey when the house is sold. They might remain or they might travel with the owner to wherever he is moving.
The town of Norco is also referred to as "Horsetown USA". Horse statues, horse murals, horse decorations, horse trails, and all things pertaining to horses are all over town. It is not uncommon to see people riding horses through town and there are even hitching posts at many of the business in case you wish to take your horse to go shopping instead of your car. The main road in town also has a patriotic theme to it, as the white dotted line separating lanes has a red dash to the left of it and a blue dash to the right. Thus all the dotted lines down the main street are made up of red, white, and blue dashes.
Closest Weird
First Created: 2016-01-19
Last Edited: 2016-01-19