Weird California - By Joe Parzanese
Joaquin Murrieta's Horse Groomer

Gravesite
Enterprise Way, Tehachapi, California 93561


Legend of Avelino Martinez
126 East F Street, Tehachapi, California 93561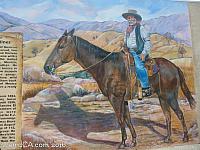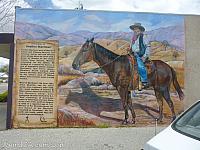 Joaquin Murrieta was an infamous bandit who operated in California in the 1850s. He is arguably one of the most famous outlaws of the state. There are many tales of his time as a bandit, and he may even have influenced the stories of Zorro. But, someone you may not have heard of, and also the last of the Murrieta gang to pass away, is Avelino Martinez, Joaquin Murrieta's horse groomer!
Avelino Martinez was only 4'4", but the short man supposedly lived to at least 112 years old, maybe even more! Of Mexican, Chinese, and Native American descent, Martinez migrated to California when he was only thirteen, to look for his father, coming up from Mexico with a group of drovers. Later he worked for Joaquin Murrieta, and possibly Tibercio Vasquez, as a horse groomer. Martinez always explained that he never took part in their crimes or robberies, and only acted as a horse herder, groomer, and sometimes cook. He reportedly worked for Murrieta up until 1853, when Murrieta's gang was captured and Murrieta supposedly killed.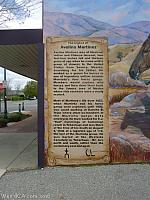 Avelino Martinez lived until 1936, before passing away on August 7th, at a possible age of at least 112. Some accounts list him at 114, and another even has him at 115. He was the last known survivor of the Murrieta gang. After having worked for Murrieta (and possibly Vasquez) he was employed at Rancho El Tejon until 1920, when he quit and then worked at the Cummings Ranch until he died. He reportedly always dressed in cowboy clothes, hanging a holster and gun from his belt. He even still rode a horse everywhere he went. It is said that after a night of drinking in town, a friend of his named Vickie Leiva, would go and retrieve not just his guns, but also a stool, so Martinez could get on his horse to go home.
It is reported that Martinez was interviewed by several writers of California history, mostly about Murrieta. However, in some later interviews, it has been rumored that Martinez instead claimed to have met Murrieta in 1877, which was 24 years after the outlaw was supposedly killed by Harry Love, the Captain who after killing him, decapitated Murrieta and displayed his head. We may never know if Avelino Martinez really did work for the infamous ladrone, or if he instead made his acquaintance more than two decades later, giving some credence to the legends that Murrieta's head was not the one on display all those decades. Perhaps it's both, and Martinez both knew Murrieta during his days as an outlaw, and after, when he was supposedly deceased. Or perhaps it was neither.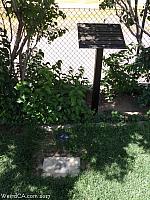 Avelino Martinez's gravesite in Tehachapi's Westside Cemetery is north-south whereas the rest of the gravesites are east-west. Supposedly, Martinez's employer, Buddy Cummings, had paid the grave diggers, two men who had never dug a grave before, wine to do so, and although they did an adequate job, they dug it in the wrong direction, thus leading to Martinez being the only north-south gravesite in the cemetery. The gravesite can be found along the wall, just to the right of the entrance upon entering. It is marked by a plaque, as well as a grave marker.
In addition to the plaque in the cemetery, Avelino Martinez is graced with a mural painted on a wall in downtown Tehachapi along F Street. The mural was completed in 2007 and is painted by Patti Doolittle. Tehachapi has, since 1999, strived to place a series of historical murals throughout their downtown in an effort to beautify the downtown area, educate people on the area's history, and provide a historical guide to visitors.
First Created: 2017-08-31
Last Edited: 2017-08-31