Weird California - By Joe Parzanese
Avenue of Faces

East E Street and South Mojave Street, Tehachapi, California 93561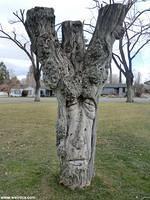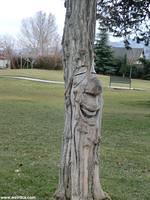 Nicknamed the "Land of Four Seasons", Tehachapi is on Highway 58 between Bakersfield and the Mojave. Scattered throughout the town are several carved trees. Most of the carvings are of various faces set in the tree, each unique giving the tree a personality all its own. Sculpted trees are known as "Tree Spirits".
Most of the carved trees and stumps that make up Tehachapi's Avenue of Faces are either in the city park: Philip Marx Central Park or in the streets nearby the City Park, although carvings and faces occasionally appear throughout town.
The carvings are the work of local artist, Kent Holmgren, who has been carving wood for over twenty years, using chain saws to make his art pieces.
All of the pictures here are from the City Park or nearby it. The park is located on East E Street. Some of the pictures are of trees near the corner of East E Street and Mojave Street. Additional trees have been reported down at Brite Lake and on Banducci Road. If you have additional pictures of trees that this website is missing, please feel free to forward them on!
Sadly in August 2015, the Tehachapi Valley Recreation and Park District had the carvings at both the city park and at Brite Lake suddenly removed. They claimed liability risks as the reason for the sudden removal. A few of the wood carvings were saved by neighbors to the city park and some of the carvings are now on display across the street from the park. The frog stump, for example, is now painted and at the corner of E Street and S. Mojave Street. Three of the tree stumps with faces have been put up in a yard near the city park. It is also rumored that a few of the wood carvings survived being torn down by the city. The trees on the property right before the park still remain as well.
Tehachapi also has excellent winds for gliding, a large turbine wind farm, as well as alpaca and ostrich farms. Other nearby "weird" attractions include history and gravesite for the horse groomer of the infamous bandit Joaquin Murrietta, as well as the amazing train track setup called the Tehachapi Loop! For more information about Tehachapi, the city has a flyer:
Closest Weird
Outside Links:
First Created: 2013-05-20
Last Edited: 2016-04-03