Weird California - By Joe Parzanese
Golden Gate Park Buffalo Paddock

1237 John F Kennedy Drive, San Francisco, California 94121
(The Buffalo Paddock is situated north of John F. Kennedy Drive)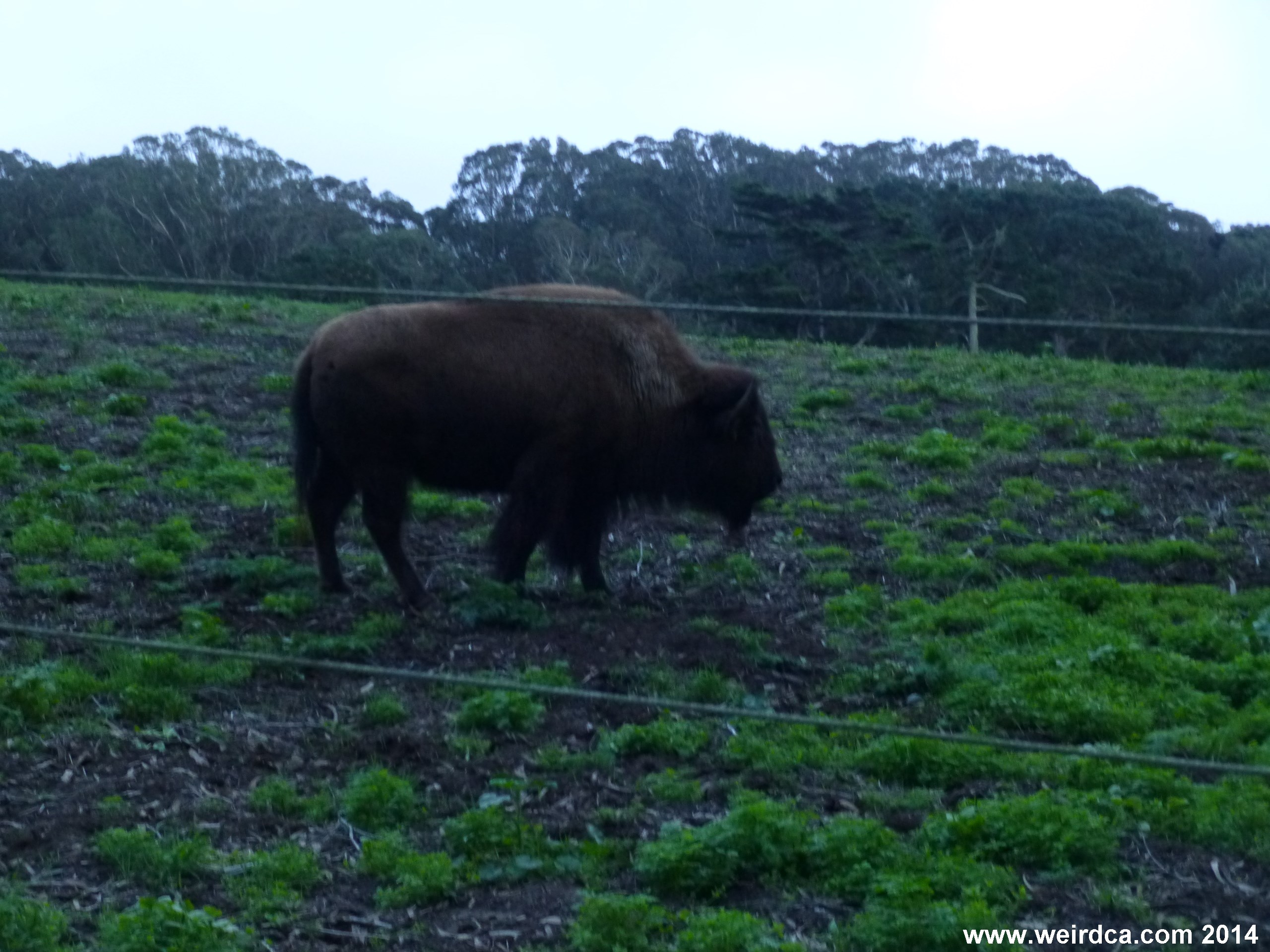 Golden Gate Park has a unique attraction for a city the size of San Francisco and although it's named the Golden Gate Buffalo Paddock, you'll only find bison in it. Yes that's right, a herd of bison live and graze in the middle of San Francisco. And they've been in San Francisco since 1891, moving to their current location in 1899.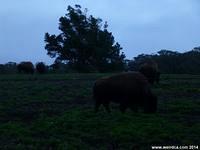 In the 1890s two bison, one male and one female were brought in from Wyoming and Kansas. They were named Ben Harrison after Benjamin Harrison then President of the United States and Sarah Bernhardt after a famous stage actress who had performed briefly at the Baldwin Theater a few years earlier. Ben came from Kansas. Soon after, more bison were moved to San Francisco until finally in 1918 there were thirty bison roaming Golden Gate Park. Later bison were named after other public figures including Bill McKinley and Grover Cleveland, both named after other U.S. Presidents.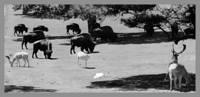 The bison population in North America was at an all time low in 1891, and this was the beginning of what would turn out to be a successful attempt at breeding North America's largest animal. Over 100 calves have been produced by the herd at Golden Gate Park, and now the number in North America surpasses 200,000.
Golden Gate Park, at one time before the San Francisco Zoo opened, played home to not just bison, but also sheep, elk, deer, and bear.
Bison are often referred to as the American buffalo, although they are only very distantly related to the two true buffalo, the Asian water buffalo and the African buffalo. Bison can reach speeds of up to 30 mph, but it is rather unlikely when you visit you'll see a lot of activity out of the bison in the paddock. They mostly stand there and graze on the grass and weeds in their enclosure. I believe there are about nine bison in the herd as of early 2014. The bison are cared for by the staff at the San Francisco Zoo.
In California there is another herd of bison located on Catalina Island. Rumor states that fourteen bison were imported in 1924 for a Famous Players-Lansky Corporation film called The Vanishing American. The movie release though doesn't have any bison in it nor are there any scenes that look like they were filmed in Catalina. Some believe that perhaps the bison came from an earlier Lansky film called The Covered Wagon released in 1923 that has several bison appearing in it. The theory being that for some reason after filming the bison were dropped off on Catalina. Another theory is that they were imported for a movie that was never made. Regardless, the herd still lives in Catalina and at one point reached a population of 600 animals. In 2004 in order to trim the herd, 100 bison were rounded up and sent back to the Great Plains, sort of a repatriating back to their native lands, where they would live out there natural lives on Lakota tribal lands in South Dakota. Today, however, the herd is controlled through birth control and kept around 150 animals, a number that a scientific study determined would be good for both the bison and the island.
Closest Weird
Comments:
Kevin of Tracy, CA on 2014-08-19 said:

Bison are also in Railroad Flat Ca
Outside Links:
Outside References:
First Created: 2014-02-24
Last Edited: 2014-02-24