Weird Nevada - By Joe Parzanese
Las Vegas Arches

200 South Las Vegas Boulevard, Las Vegas, Nevada 89101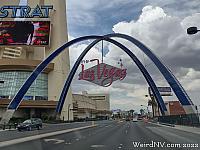 So South of Mandalay Bay along Las Vegas Boulevard is the famous "Welcome to Las Vegas" sign. But, technically the sign sits in an area called Paradise, and isn't located at the beginning of the actual city. Instead, that honor sits about four miles north, where the Stratosphere stands. There, the town has put up two enormous arches across the same road, Las Vegas Boulevard, signifying the beginning of the town.
The arches sit just to the east of the Stratosphere and tower up about eighty feet. At night, the arches light up, glowing in a myriad of colors and patters from the thousands of LEDs on them. Driving up to them from the South, the arches proudly state "Las Vegas" with "City of" up and a little to the left. Driving up to the arches from the North, drivers see the words, "The City of Las Vegas Thanks You".
Where as the "Welcome to Las Vegas" sign was erected way back in 1959, the arches are a much more recent addition to the street and city, having arrived on Las Vegas Boulevard in 2020. The "Welcome to Las Vegas" sign cost $4,000, not considering inflation. The new arches in 2020 cost about six and a half million! You can find the retro arches between St. Louis and Bob Stupak Avenues.
The entire design came from Selbert Perkins Design and the arches were fabricated and installed by YESCO, of course. Construction began in March of 2020, and the arches were fully unveiled on November 18th, 2020. Each arch spans a distance of 140 feet. There are 13,016 lights on the arches and the entire structure uses over 61,000 watts of power.
Closest Weird
First Created: 2022-08-12
Last Edited: 2022-08-12