Weird California - By Joe Parzanese
Standard Oil

3201 West Tropicana Avenue, Las Vegas, Nevada 89103


1501 Van Ness Avenue , San Francisco, California 94109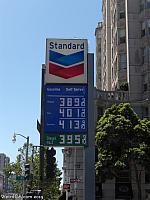 In 1870 John D. Rockefeller and Henry Flagler started up a corporation called Standard Oil, which became the largest oil refiner in the world at the time. Through duplicitous dealings, espionage, price wars, and other dubious and often illegal actions, Standard Oil undercut their competitors' prices and aggressively acquired and consolidated their competitors until they formed a giant monopoly, controlling both the horizontal and vertical integrations of their business.
By 1890 Standard Oil controlled about 88 percent of all the refined oil in the United States. Rockefeller, as a result, became the richest person in the country. By 1909 the US Justice Department sued Standard Oil under federal antitrust laws set up by the Sherman Antitrust Act of 1890. The case went all the way to the US Supreme Court which on May 15th, 1911 declared Standard Oil broken up into 34 separate companies, often referred to as "baby Standards". Ironically, Rockefeller's wealth massively increased, thus leading him to become the richest man in the world.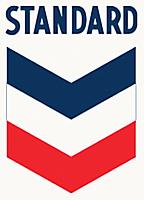 Standard Oil of New Jersey eventually became Exxon while Standard Oil of New York would become Mobil. Standard Oil of Indiana would eventually become Amoco, while Standard Oil of California would go on to be called Chevron.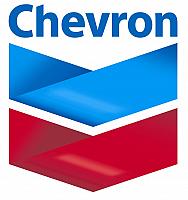 Eleven of the "baby Standards" were given rights to use the Standard Oil name, based on the states they did operations in. As of today, three companies still own the rights to the Standard name: ExxonMobile, BP, and Chevron. BP purchased Standard Oil of Ohio and Amoco thus obtaining the rights.
Chevron still owns the Standard Oil trademark in 16 different states. To maintain that trademark, Chevron still operates one Standard branded Chevron in each of those 16 states. Those 16 states are California, Nevada, Oregon, Washington, Idaho, Utah, Alaska, Hawaii, Arizona, New Mexico, Texas, Mississippi, Alabama, Georgia, Florida, and possibly Kentucky.
California's Standard Oil Station is located in San Francisco and its Nevada station is in Las Vegas. The gas stations look exactly like a Chevron station with their branding, look and feel, color scheme, layout, etc., but instead of saying Chevron, the gas station states "Standard". Thus, Chevron keeps the brand alive as intellectual property.
So if you pull into what appears and feels like a Chevron, but is labeled "Standard" instead, don't get all confused and think you entered some sort of alternate universe, now you know the real history of why it's Standard instead of Cheveron.
First Created: 2020-03-23
Last Edited: 2020-12-17