Weird Nevada - By Joe Parzanese
Pink Elephant

4605 S. Las Vegas Boulevard, Las Vegas, Nevada 89119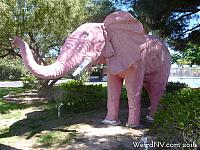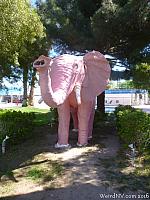 In a city filled with as much strange and bizarre like Las Vegas, something like this statue of a pink elephant can get just easily get lost in the sheer amount of weird!
The Diamond Inn Motel is located on the east side of the Las Vegas Strip, south of Mandalay Bay and north of the Welcome to Las Vegas sign. It was actually built in 1940 as the Desert Isle Motel, which in today's day of constantly rebuilding the Strip's casinos into bigger and better hotels, probably makes the Diamond Inn Motel one of the oldest buildings still standing on the Strip.
The pink elephant, sorta the mascot for the motel, originated from Disney World, and arrived at the motel sometime in the 1950s. He use to have a sound mechanism that let him trumpet loudly, but the county insisted that it be removed due to the noise causing accidents on the boulevard in front of the pink pachyderm.
The pink elephant stands under a large sign that reads in all caps "MOTEL ROOMS AVAILABLE". Supposedly the rooms have mirrors around the beds.
Closest Weird
Outside Links:
First Created: 2016-09-20
Last Edited: 2016-09-20