Weird California - By Joe Parzanese
Dragon House

2816 22nd Street, Sacramento, California 95818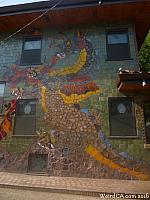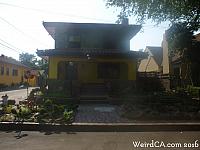 Originally created in 1985 by a Sacramento born and raised artist by the name of Raymond Gage, the Dragon House is a work of art sitting in the Curtis Park neighborhood of Sacramento.
It took Gage about three years to complete the murals on the side of the house, and since then the occupants have continued the far east feel of the property. Two large murals adorn one entire side of the house. The first is a gigantic mosaic of a dragon, from which the house gets its name. The second is a gorgeous mural of a white tiger.
The house also has several stained glass windows, immaculate landscaping in keeping with the far east feel, as well as statuary and other little details that add to the entire property. Even the fire hydrant adheres to the theme. Inside the house are additional murals as well.
Raymond Gage, the artist passed away in 2003. The house at the time of the creation of the murals was owned by Dave and Carolyn Belmore, and probably still is owned by them.
Closest Weird
Outside Links:
First Created: 2016-09-08
Last Edited: 2016-09-08