Weird California - By Joe Parzanese
Bum

410 Island Avenue, San Diego, California 92101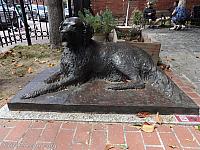 Loved by everyone, owned by noone.
A statue of Bum lies in the Gaslamp Quarter of San Diego, where back in 1886, Bum was San Diego's version of San Francisco's Bummer and Lazarus. He was half St. Bernard, half Spaniel and he was taken care of by those who lived in his neighborhood. He is often referred to as San Diego's first and only town dog.
According to the tale, Bum was supposedly born in San Francisco on July 3rd, 1886, to a stray along with several other puppies. He was adopted by one of the city's fire companies, while due to the local ordinance at the time his mother and siblings were all put down. As he grew up, he began to roam from the fire house, until he finally in December 1886, stowed away on a steamboat, called the Santa Rosa, bound for San Diego.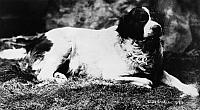 Much of Bum's stories and escapades, some fact, some probably fiction were documented and told by a journalist, himself a new arrival in San Diego, arriving only a month before Bum in November 1886. James Edward Friend or "Captain" Friend as he preferred to be called was instantly a buddy of Bum's and often took care of him, along with others from the town. Another primary caretaker was Ah Wo Sue, a Chinese Fisherman, who often fed and let Bum sleep at his place.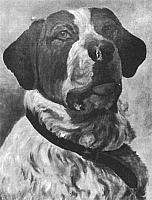 Bum traveled all around town, both upper and lower class areas, often using the public transit system to get around town. Class meant nothing to Bum as he was a dog for the entire town. He was never interested in being taken in as a pet, although there was plenty of interest, and was thus taken care of by the entire community from the doctors to the restaurants to the train conductors, etc. He even occasionally followed along with the volunteer firefighters when reporting to a fire, getting a ride along in the fire wagon, always ready to report when hearing the firebell. So famous was Bum that at least one restaurant even advertised with a sign that said, "Bum Eats Here".
Poor Bum, at a young age, lost the lower portion of his front right foreleg when it had to be amputated after a fight with another dog. Down by the tracks, Bum and a bulldog owned by Till A. Burnes ended up in a fight that rolled onto the train tracks right in front of a train, which sadly collided with both dogs, killing the bulldog and heavily injuring Bum. Sadly the lower part of his leg was amputated, but Bum got around just fine on three legs after that.
In 1891, when San Diego decided to start issuing dog licenses, he was issued the very first one, and was granted a tag for life. His likeness was then used on all dog licenses issued afterwards.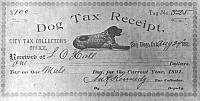 There's even a tale of Bum taking the train up to Los Angeles, spending a few days there, and then being sent back home to San Diego. "Captain" Friend apparently witnessed Bum boarding a train heading north and notified train stations up the track all the way to LA that Bum was on the way, asking them to treat him well, show him around town, and to then send him back. Dick Clover, then a reporter in LA for the Herald, but formerly a reporter in San Diego, met his old friend when he arrived in LA and showed him around for a few days, before putting him back on a train heading south. Bum rode free, of course.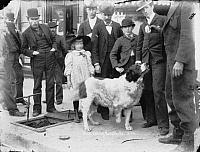 "Captain" Friend passed away in March 1898, and soon after Bum was ordered to reside on the grounds of the County Hospital due to the difficulty he was experiencing in getting around from his arthiritis. Sadly Bum passed away on November 19, 1898 and was buried on the grounds of the County Hospital.
A statue was created for Bum in 2007, sculpted by Jessica McCain. It is located at Pocket Park in the Gaslamp Quarter. It is next door to the William Heath Davis House, the oldest wooden structure in the Gaslamp Quarter. Besides being haunted, the William Heath Davis House contains a gift shop, museum, and an information center. You can tour the house as well.
There is a second statue in Pocket Park with Bum. This is the statue of Greyfriar's Bobby. Bobby was a Skye Terrier from Edinburgh, Scotland, San Diego's Sister City also called a Twinned City. Because of the two cities' relationship, and because both had famous canines, Edinburgh gifted a statue of Bobby to San Diego, and San Diego gifted a statue of Bum back.
Bobby was 16 when he had passed away in 1872, but had spent the previous 14 years living in the cemetery, guarding his deceased owner's grave. Edinburgh, Scotland also has the same two statues, one of Bobby, and one of Bum, near Greyfriar's Church. Bum is located in Princes Street Gardensby the King's Stables Road entrance. I've also heard a small sculpture of Bum can be found inside the House of Scotland cottage in Balboa Park.
There are three plaques in the park, one summarizing everything, and one for each canine.
A "Tail of Two Cities - The Brother Dogs Project
The San Diego-Edinburgh Sister City Society, Inc has brought these two dogs together to celebrate the friendship between our cities and to memorialize the remarkable stories of Edinburgh, Scotland's Official Dog, "GREYFRIARS BOBBY" and San Diego's Official Town Dog, "BUM"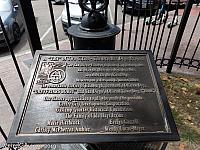 BUM
P>San Diego's Official Town Dog
Died November 10, 1898 - Aged 12 Years
Loved by Everyone - Owned by No One. His name suited him because he arrived as a stowaway, befriended everyone and "bummed" quality food from the local eateries. As a young dog he survived a scuffle with another dog on the Santa Fe Train Tracks. Though he lost a foreleg and part of his tail, his spirit was unbroken. He guarded the children, led the parades and fire trucks and had many adventures. So admired was Bum that the city council awarded him a lifetime dog license. When he died, children collected pennies for a proper funeral.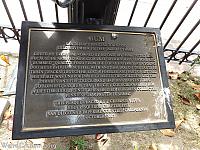 GREYFRIARS BOBBY
Died 11th January 1872
Aged 16 years
Greyfriars Bobby is one of Edinburgh's best loved characters who served his master in life and watched over his grave in Greyfriars Kirkyard after he died.
Presented to the citizens of San Diego by the citizens of Edinburgh, Scotland to celebrate the 20th anniversary of their Sister City link and to extend an invitation to visit Edinburgh.
August 1997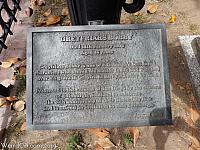 Closest Weird
First Created: 2020-08-23
Last Edited: 2020-08-23