Weird Nevada - By Joe Parzanese
Bonnie and Clyde's Death Car

Whiskey Pete's
31900 W Primm Boulevard, Primm, Nevada 89019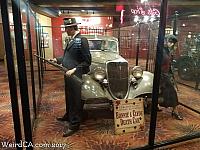 On May 23rd, 1934, in Bienville Parish, Louisiana a posse of two Louisiana officers combined with four Texas officers ambushed and gunned down Bonnie Parker and Clyde Barrow. The infamous Bonnie and Clyde after a crime spree of over two years, several robberies, and multiple murders, were finally done in by Texas Ranger Frank Hamer, who predicted the gang's movements and was able to predict where they would go next.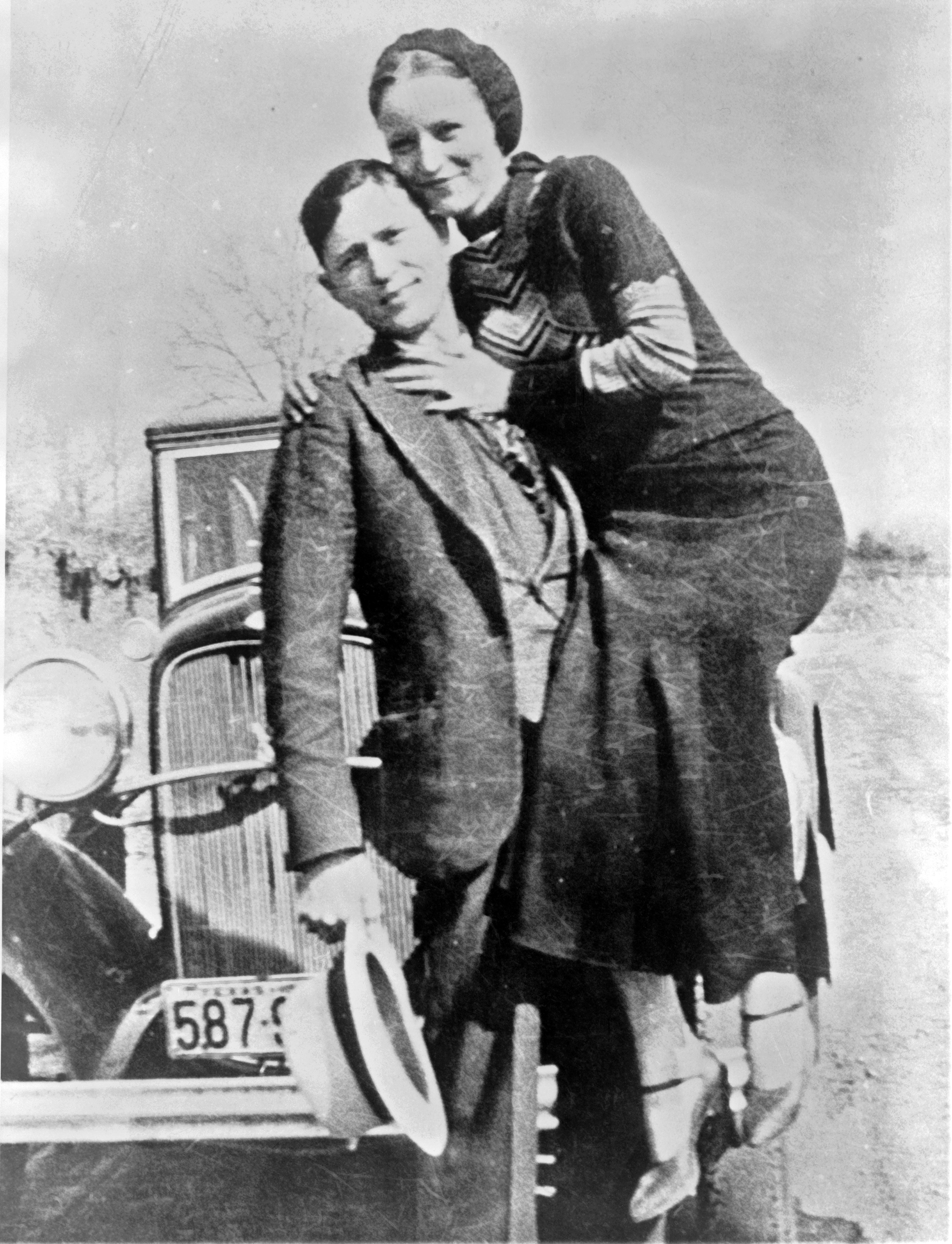 At 9:15 am the officers ambushed the couple, unloading their automatic rifles then moving onto their shotguns, and finally their pistols, emptying all their weapons into the car. In the end Clyde had seventeen different entrance wounds on his body, and Bonnie had twenty six. There were so many bullet holes that the undertaker had difficulty getting the bodies to contain the embalming fluid.
The curious soon descended on the scene as a crowd began trying to take "collectibles" from the car and bodies. Locks of Bonnie's hair, pieces of both their clothes, shell casings, glass from the car's windows. Some enterprising souvenir searchers even tried to cut off Clyde's trigger finger and ear.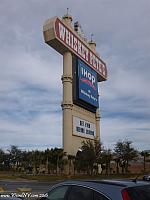 The Ford V8, now horribly bullet riddled and blood splattered, was towed away into history.
It's original owner, Ruth Warren, who had had it stolen out of her driveway by the criminal couple, sold the car for $3,500. It occasionally appeared at carnivals, fairs, etc. and even at a Nevada race track where people could sit in it for a dollar. In 1952 it was sold for $14,500, and again in 1975 for $175,000, before finally being acquired in 1988 by Gary Primm for $250,000.
Today, there have been no less than seven fake Bonnie and Clyde death cars put on display throughout America. The Washington DC National Museum of Crime and Punishment has one. Sorry, it's not the real one, but the one from the 1967 Warren Beatty and Faye Dunaway movie. This movie car was formerly on display at the Bonnie and Clyde Ambush Museum in Gibland, Louisiana, before being sold to the National Museum of Crime and Punishment. There was another Bonnie and Clyde death car in Florida, at the no longer open Tragedy in US History Museum in St. Augustine (which also had such artifacts as a leather jacket once worn by James Dean and Jayne Mansfield's death car!).
Whiskey Pete's
The casino is named after Whiskey Pete who was originally Pete MacIntyre, a gas station owner turned bootlegger who died in 1933. He had requested to be buried standing up in order to look over his land, but the story states that his drunk and exhausted friends gave up and he was buried at a sixty degree angle.
But many years later, he was accidentally dug up while workers were constructing a bridge from Whiskey Pete's to Buffalo Bills, a casino and hotel on the opposite side of the interstate. His skeleton supposedly still had a cowboy hat on, with a bit of red hair coming out, and was clutching a bottle of whiskey. Pete's body was relocated and is supposedly now buried in one of the nearby caves.
But his ghost still lurks around the hotel and casino. The most interesting thing the ghost of Whiskey Pete does is occasionally refill people's gas tanks. There have been reports of people coming to the hotel with tanks almost empty, staying the night, and finding their fuel tanks full in the morning. His ghost also moves curtains, sheets, and glasses as well as turning on and off lights. He has been spotted by both casino patrons and employees.
The REAL Bonnie and Clyde Death Car is on display in Primm, Nevada at Whiskey Pete's Hotel and Casino owned by Primm Valley Resorts. Bonnie and Clyde's Death Car is on display in the casino along with a multiple letters of authenticity for the car and Clyde's death shirt, also filled with bullet holes and faded blood splatter. A hand mirror, a belt, and a beaded necklace that belonged to the couple are also on display in the casino. They can be found directly on the right upon entering the casino through the main doors.
Additionally a second car is on display alongside Bonnie and Clyde's. This one first belonged to gangster, Dutch Schultz born Arthur Flegenheimer. Dutch Schultz was assassinated in a bathroom on October 23rd, 1935 in Newark, New Jersey. The hit on Schultz was ordered by The Commission or the leaders of the American Mafia. In 1935 it was led by Charles "Lucky" Luciano. It is said that Dutch Schultz left over seven million in cash and bonds buried in an air tight, waterproof safe at an undisclosed location in upstate New York. Treasure hunters still meet to try and find the missing treasure, but its location was taken to the grave by the Dutchman.
Dutch Schultz had a special 1931 Lincoln made for him with lead filled doors and inch thick glass in order to make the car bullet proof. After Schultz was assassinated. the car passed into the hands of Al Capone and used by his mob. It was later seized by Chicago Police and sold in auction. Rumor has it, it also functioned as President Franklin D. Roosevelt's car after it was seized.
The Dutch Schultz / Al Capone car is also riddled with bullet holes, but according to rumor, this was done by the owners of the casino who wanted to make the car look more like it had belonged to a couple of gangsters. He supposedly had the car taken outside and had several of his employees fire upon the car to give it the appearance it has now.
Whiskey Pete's is located just across the California state border in Nevada on Interstate 15.
Closest Weird
Comments:
Ron Nelhams of La Verne, CA on 2018-02-02 said:
Outside Links:
Outside References:
Nevada Curiosities (2009) by Moreno, Richard, p: 72 - 73
Weird Las Vegas and Nevada (2007) by Oesterle, Joe and Cridland, Tim, p: 192 - 193, 214 - 216
New Roadside America (1992) by Wilkins, Mike; Smith, Ken; Kirby, Doug, p: 62
First Created: 2013-06-06
Last Edited: 2021-02-27