Weird California - By Joe Parzanese
Auburn Statues

Claude Chana
Lincoln Way meets Maple Street meets Park Street, Auburn, California 95603


The Chinese Coolie
Lincoln Way, (Near Elm Avenue), Auburn, California 95603


Amazons and other statues
391 Auburn Ravine Road, Auburn, California 95603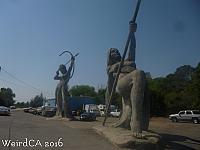 If you drive a little around the town of Auburn, you might notice that there are several giant, concrete statues in three different locations. These enormous statues are the creation of a local dentist named Dr. Kenneth Fox.
The sculptures range in height from thirty to over forty feet tall and the largest clocks in at a weight of over a 120 tons! They are concrete poured over steel frames. Dr. Fox is a self taught artist, which makes these sculptures even that more impressive. He states that since his sculptures are made of "solid concrete, like the highways", his sculptures will not disappear with the passage of time like other roadside attractions.
The first statue was created back in the late 1960s. Several of his first statues involved nudity, which at first led to some public outcry in town, even including changing the school bus route so that children wouldn't be exposed to Dr. Fox's statues. The town is much more accepting of the statues now, even having later commissioned a statue of Claude Chana which stands near the entrance to Old Town Auburn.
Amazons
Four of Dr. Fox's statues are setup outside his dentistry office. As Dr. Fox has gotten on in years, the practice is now in the hands of a different dentist. Three of these are Amazons, and the fourth is a naked man in chains.
One of the naked women is smaller than the others but positioned right outside of the dentistry office. She is kneeling, with her hands clasped up in the air as if praying. Entitled "Freedom of Prayer", the woman who originally posed for the piece use to work for Dr. Fox in the office. One of the other two Amazons has a large spear, and the other is holding a bow and arrow. The archer is the tallest of the statues coming in at forty-two feet tall. The statue of the nude man is holding chains as he struggles with them, lifting his arms up.
The Chinese Coolie
On Lincoln Way, near where Elm Avenue meets it, next to the train tracks is the giant statue of a Chinese railroad worker pushing a wheelbarrow. The "Chinese Coolie" as it is entitled stands twenty two feet tall, is thirty three feet long, and weighs in at seventy tons! It was created by Dr. Fox out of one mile of reinforced steel rebar with thirty five cubic yards of concrete poured over it. It was originally created back in 1972, sitting outside of Dr. Fox's dental office, behind and to the left of the Amazon with the bow, and arrow, but was relocated to its current location on November 27th, 1989. It is a tribute to the Chinese laborers that constructed the transcontinental railroad through the nearby Sierra Nevada Mountains.
Claude Chana
Near the beginning of Lincoln Way, back by Interstate 80, is another of Dr. Fox's giant statues. This statue is a 45 ton concrete statue of Claude Chana, a prospector who discovered gold in the area back in May 16th, 1848. According to a nearby Clampers plaque, Chana was an adventurer and fruit rancher in Placer County. He discovered gold in the Auburn Ravine, thus leading to the settlement of Auburn. Dr. Ken Fox created the statue for the city which formally commissioned it from him and the city had it installed at the beginning of Old Town Auburn in 1975.
Other Non Auburn Statues
Another Ken Fox statue is located in Porterville. Called "Salute the Farmer" it shows a farmer with a plow. It was made in 1977 for the city's Bicentennial and is located at the north end of Main Street in North Park.
I had originally thought that two other statues might have also been created by Dr. Ken Fox. These two are located at Steele Realty & Investment Company in Elk Grove of Sacramento County. They are a giant Native American and an enormous buffalo. They look to be similar, both in design and in building materials, to the other statues shown here. However, I have since found out that these two statues were created by a student of Doctor Fox, Bruce Carty!
Dr. Fox also created a statue entitled "Why" in 1967. The statue depicts a soldier holding a dead fellow soldier. It is also located in Auburn, but is not a gigantic, concrete statue like the others. Dr. Fox served in the Korean War as a dentist.
Outside References:
First Created: 2017-01-16
Last Edited: 2020-06-25