Weird California - By Joe Parzanese
The Big Shoe Shoe Repair

931 Chester Avenue, Bakersfield, California 93301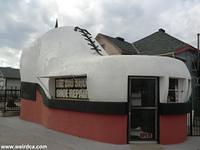 No, the little old lady who lives in a shoe does not reside in Bakersfield. Built back in 1947, the giant shoe is one of at least three giant shoes in the United States. Originally it was called Deschwanden's Shoe Repair Shop. It is thirty feet long, twenty feet high, and built of plaster on a wood frame. The building also contains a fifty foot long rope as a shoelace.
The owner passed away in 1992, and in 2000, the shoe and the next door house were put up for sale. The current store, conveniently also a shoe repair store named The Big Shoe Shoe Repair, opened in 2003.
Comments:
Louis Marino of Bakersfield, California on 2016-04-10 said:

I remember this place from when I was a child. I will be 70 years old in December of 2016. I have had my boots repaired there, and they did an excellent job .
Last Edited: 2013-05-08