Weird California - By Joe Parzanese
Mission San Antonio de Padua

Mission Road, Jolon, California 93928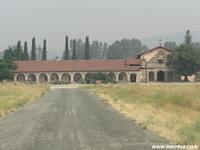 A Headless Horsewoman rides a ghost white horse throughout Fort Hunter Liggett. Meanwhile ghost monks, a strange ball of light, and phantom figures have been seen in Mission San Antonio de Padua.
The story goes that in Spring 1898, the Halloran family consisting of Michael and Alice along with their baby, Clara, were heading to their new homestead located on Nacimiento River. They had just arrived by train from Philadelphia. On their way they stopped off in Jolon. There, local ranchers and Native Americans cautioned them about crossing the river, stating that it was currently too high to cross. Despite being warned, and even though Alice asked him to wait, Michael Halloran pressed the family on anyway, believing that those who warned him were simply after his land.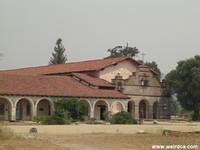 The river was indeed too rough, and sadly the wagon was capsized by the current and overturned. Alice became caught in the reins and was decapitated as the horses struggled to free themselves, while poor Clara drowned. The graveyard where Alice was buried, headless, eventually became part of Fort Hunter Liggett. Now, Alice is a ghost haunting the area around Fort Hunter Liggett, searching for both her head and Clara. She is suppose to float above the ground, especially on moonless nights, holding out her hands, pointing in the direction of the river.
Supposedly the U.S. army has had run ins with her, the first reportedly being in the mid 1950s when two soldiers stationed at an ammunition bunker near the graveyard ran across her. One died of a heart attack and the other went out of his mind, taking several months to recover.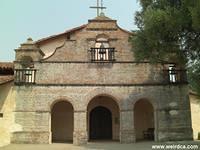 The Nacimiento-Ferguson Bridge is another location where it is said you can run across the Headless Lady of Jolon!
Like most good ghost stories, there are, of course, variations on the story. Another version claims that the headless woman was a Native American, often named Cleora, who was having an affair with a miner in the area. Her husband found out, having caught her with the prospector. He took an ax and killed her, then chopped off her head, and buried her body in one grave, and her head in a separate one. This has led to a headless horsewoman riding in the night, searching for her missing head.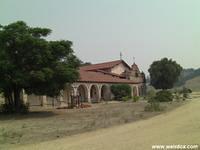 A slight variation on the Headless Horseman story has a prospector taking a Native American wife, but when he left to go mine his claim, upon returning after five long months, he discovered her in the arms of another Native American. In a rage, he took an ax, killed his wife, and her lover. He chopped off her head, and then as he was leaving, took the ax to her white horse that he had given her as a gift. Now headless, she rides her white ghost horse on moonless nights searching for her head.
There are multiple stories of the Headless Horsewoman being encountered by the army on Fort Hunter Liggett, most often at a now supposedly decommissioned Ammo Supply Point. One of the accounts has her being seen in long flowing robes and a cape. Another, in January 1975, has her being chased by four army soldiers in a jeep. She is usually said to be all dressed in white. A few of the encounters have consisted just of the sounds of ghostly beats of the horse's hooves as it gallops across the military base. Sightings of the Headless Horsewoman amongst the army base are said to number over twenty.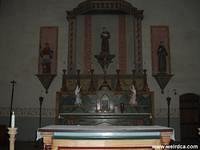 Even reknown ghost hunter, Richard Senate, has seen a ghost at the Mission. In fact, according to him, his very first ghost. In the summer of 1978, while on an archaeological expedition to the mission, Senate encountered a ghostly monk carrying a candle, who vanished before his eyes.
And as if that's not enough, for centuries there have been legends told by Native Americans of flying people in long robes visiting the area. Even in modern times, there have been reports of strange robed figures being seen in doorways and under arches, there briefly before suddenly vanishing from view.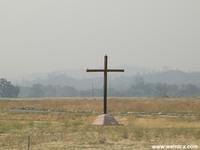 Lastly, there's a ball of light that has been seen drifting near a grave in the graveyard. It has occasionally wandered around the mission as well. There are also stories about strange clouds hovering over the mission.
Mission San Antonio de Padua was established by Father Junipero Serra on July 14th, 1771. It was the third mission in California. The mission is remote, about twenty miles off of Highway 101, now surrounded by Fort Hunter Liggett. You need to stop at the base's front gate in order to gain access to the site. You will then drive through the military base to the end of the road. Note you will be surrounded on all sides by military buildings and training grounds. They simulate combat here and run several training ops. On the day I visited the sounds of gunfire and combat were clear. Strangely, however, when I arrived at the mission these sounds were muted, and not heard, at all, inside the mission grounds, despite being just down the street.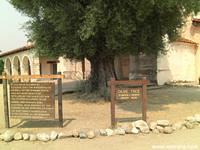 If you visit, you might notice some cats wandering the mission. When I was there, they quite literally followed me around from room to room. Everything was eerily silent as I wandered, alone and unguided, through the mission. As it was a weekday, no one else was there except one mission worker in the gift shop. My only company was the group of cats. The silence was surreal, especially knowing they were literally shooting off machine guns just down the road.
A famous cat there is Rosario, a black cat who was brought to the mission in 2007 for an adoption, but failed to end up being adopted. Rosario and his brother attended a funeral held at the mission, during which the cat wandered past the priest at the altar, into the sacristy, only to emerge soon after with a rosary. The cat took the rosary straight to the mother of the deceased, and presented it to her. And thus the cat became known as Rosario.
And if you like bandit history, there is a pistol on display in the museum portion that was found in a cave along the San Antonio River. The museum points out that this cave was once the hideout of the bandit, Tiburcio Vasquez.
Closest Weird
Comments:
Chris of Phoenix, AZ on 2020-01-24 said:

I was in the Army Military Police Corps in 1975 stationed at Fort Ord in Monterey California. I was stationed temporary duty at Hunter Liggett for about 3 months. I was working the night shift and was at the station around midnight when several of my fellow MPS told me of the story of the headless woman. I thought they were just trying to scare me. But I had to go check out some buildings about 5 miles from the main Garrison. Hunter Liggett is a rather large military installation used mostly for field training. The speed limit on this road during the day is 50 miles per hour. At night it's 30. Due to two facts ... there are no street lights on the road and the commanding officer has a whole bunch of cows wandering around. This particular night there was no moon. It was pitch-black out there. I'm driving along about halfway between the main Garrison and the building's when all of a sudden all the lights on my Jeep went out. My dash lights.. My headlights... I mean no lights. The weird thing was is that usually when there's an electrical failure on a vehicle, the engine also dies. But the engine was still running on the Jeep. But I couldn't go anywhere. Cuz I couldn't see anything in front of the Jeep. This spooked me. After about 5 minutes the lights just came on. I don't scare that easily. But I didn't make it out to check out those buildings that night. I didn't see any ghosts or anything, but...

Carlos of Hudson, WI on 2012-06-12 said:

My girlfriend and I had a very strange experience near this place. It was the summer of 1994 and we had just left the mission and were looking for a store to buy some beverages. We drove for a bit and came upon a building. We walked in and saw that it was some sort of diner. There were about fifteen people in there and all of them stopped what they were doing and turned around to stare at us. I looked at the tables and there were ants crawling all over them. The waitress was giving me a look of hatred. This continued for about thirty seconds, we then walked out. I didn't think much about it for years but I wonder if this was a phantom diner. The people were dressed in depression era clothing. They never said a word to us.
Outside Links:
Outside References:
First Created: 2017-09-24
Last Edited: 2017-09-24