Weird Nevada - By Joe Parzanese
Lumberjacks

855 W Craig Road, North Las Vegas, Nevada 89032
(965 W Craig Rd)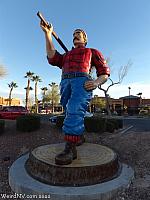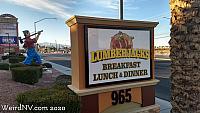 With eight locations in California, and one location in Nevada, Lumberjacks Restaurant is a casual sit down dining establishment that has a log cabin based feel with their decorations and a big lumberjack as their mascot. The first Lumberjacks opened in 2004 by the founder, Jeff Garrett. The restaurants specialize in large meals that are hearty, delicious, and filling, a meal fit for someone who has to do the strenuous work of a lumberjack all day.
Each of the nine locations has a large fiberglass statue of a lumberjack outside to greet diners! The statues are about 15 feet tall and they stand on a low stump. The lumberjack is your stereotypical mustached lumberjack with blue jeans, boots, a red shirt, the right arm holding a giant ax. The lumberjack in North Las Vegas was placed there sometime in February 2013.
Other locations, besides the North Las Vegas location, for the giant fiberglass lumberjack and the restaurant he stands outside of include eight California locations: Grass Valley, Willits, Sacramento, Petaluma, Susanville, Redding, Yuba City, and Stockton. Although I am unfortunately not 100% certain that every location has a lumberjack.
Closest Weird
Comments:
Ruben Varela of Redding, Ca on 2020-09-05 said:

Redding, Ca location has a Lumberjack out front! We have quite a few oddities up here Giant Muffler men, Giant Orange bldg, worlds largest mill stone amongst other stuff
Outside Links:
First Created: 2020-07-16
Last Edited: 2020-07-31